Aktivregion Rennsteig im Thüringer Wald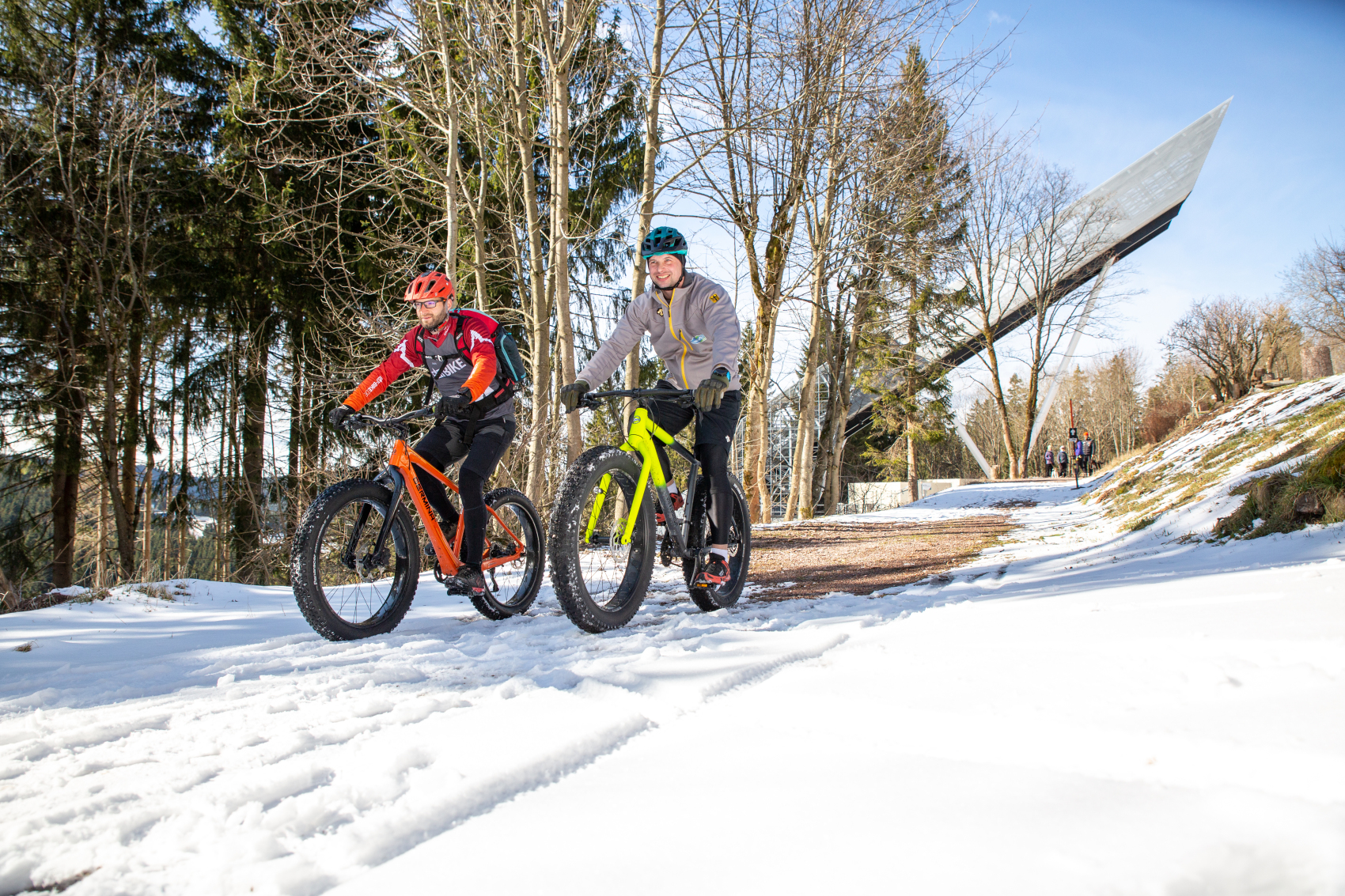 Thuringia's first winter bike trail
With the Fatbike along the "Avenue of the Olympic Champions & World Champions
On thick tires through the snow.
Why mothball your bikes in the fall and put them in the basement? Thuringia's first winter bike trail, the "Alley of Olympic and World Champions", has a seven-kilometer circular route through the enchanting Thuringian Forest ready for you in Oberhof - and not just in winter.
The circular trail for the whole family honors the most successful winter athletes of the Thuringian Forest with numerous information boards and also leads past important sports venues of the winter sports region Oberhof. Via a QR code, additional information can be called up at each information panel using a smartphone. The trees next to the boards were planted by the respective athletes themselves. At the same time, their sponsorship is an important sign of the forest conversion currently taking place here, which the town of Oberhof is carrying out together with ThüringenForst.
On paved, easily rideable ground, the winter bike trail winds its way through the forest on the outskirts of Oberhof with short climbs and descents, great views and insights into the natural environment. Depending on the entry point, the route leads past the sports high school, the ski jump on the Wadeberg and, of course, detours to the nearby luge track, the LOTTO Thuringia EISARENA Oberhof, are also worthwhile if you are interested.
When snow conditions are good, the winter cycle path is prepared so that cycling does not end unintentionally in deep snow. If you don't have a bike with a coarse tread for optimal grip on snow, you can rent a fatbike at Germina Sportwelt in Oberhof and explore the Oberhof winter forest on its up to 5-inch wide tires without slipping.
But also in summer, the 7 km long "Avenue of Olympic and World Champions" with its short climbs on a total of 200 meters of altitude offers space for an eventful bike tour or nature-oriented hike around Oberhof.