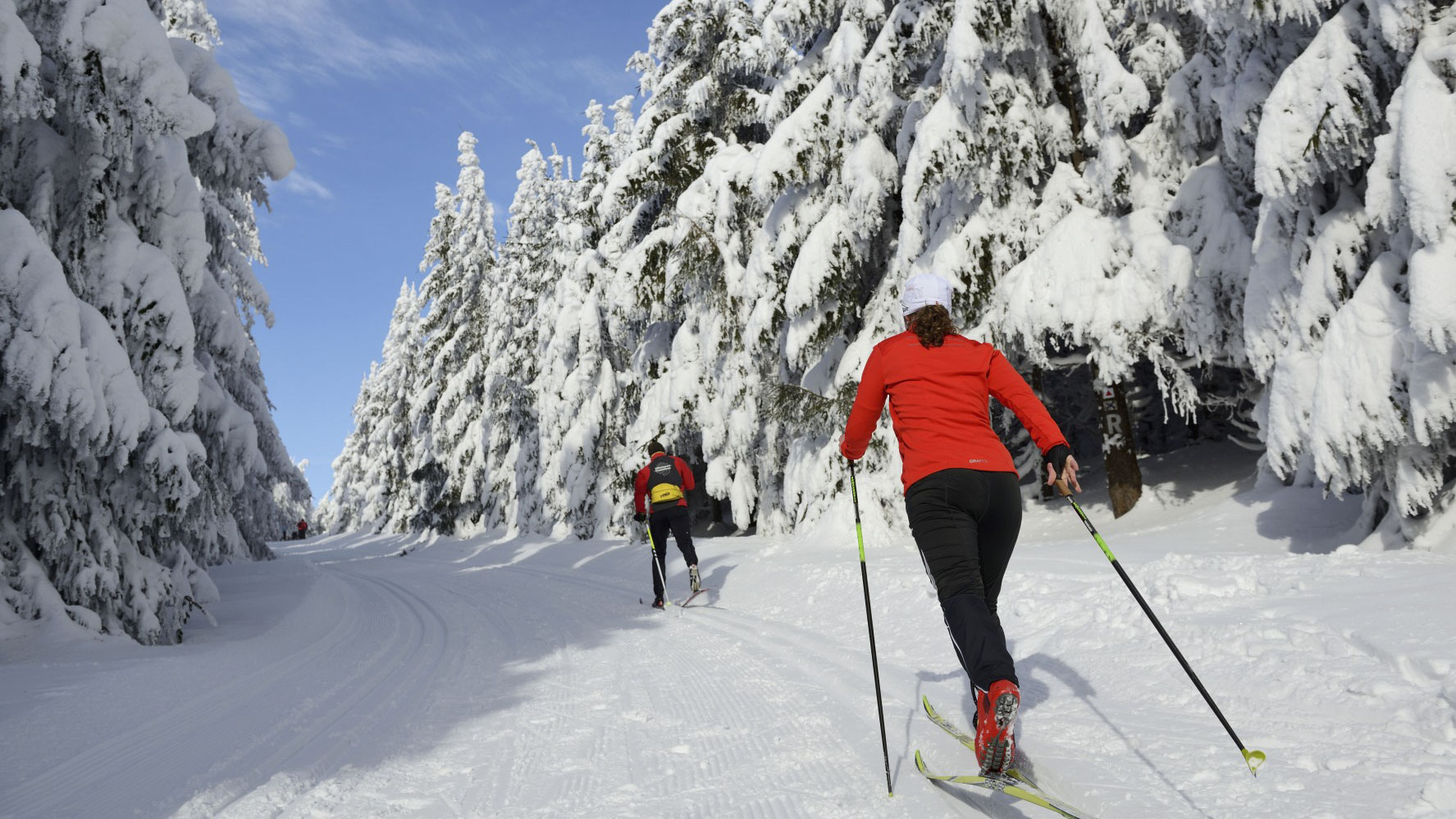 Cross country skiing up to date
Below you will find currently groomed cross-country ski trails and ski hiking trails. The listed ski hiking trails and tracks are reported daily by the local authorities. By clicking on the trail, you can get additional detailed information about it.
Explanation of the current conditions:
| | |
| --- | --- |
| ⚫⚪⚪⚪⚪ | The snow cover may be insufficient in some areas, and there may be partial gaps in the track. |
| ⚫⚫⚪⚪⚪ | There may be snowdrifts and dirt on the trail. |
| ⚫⚫⚫⚪⚪ | The trail is still partially accessible. Caution is advised. |
| ⚫⚫⚫⚫⚪ | The snow quality may not be ideal in some areas. |
| ⚫⚫⚫⚫⚫ | The trail is fully accessible and in ideal conditions. |
Cross-country skiing à la carte at the Rennsteig: In 13 DSV Nordic Aktiv centers in the Thuringian Forest you will find a perfectly coordinated, almost 1,400 kilometer long cross-country skiing trail network. Once you're on your skis, you can explore the natural beauty of the Rennsteig on circular tours of varying degrees of difficulty or on multi-day ski tours across the Thuringian Forest. This is made possible by the 142-kilometer Rennsteig Ski Trail - the heart of the region. It connects all DSV centers and offers countless tour options. 365 days of cross-country skiing pleasure. And even in summer, enthusiastic cross-country skiers don't have to give up their great passion, because in the LOTTO Thüringen Skisport-HALLE in Oberhof, the only cross-country ski hall in Central Europe, the best conditions prevail all year round at a constant -4 degrees Celsius on the 1.7 kilometer long track.