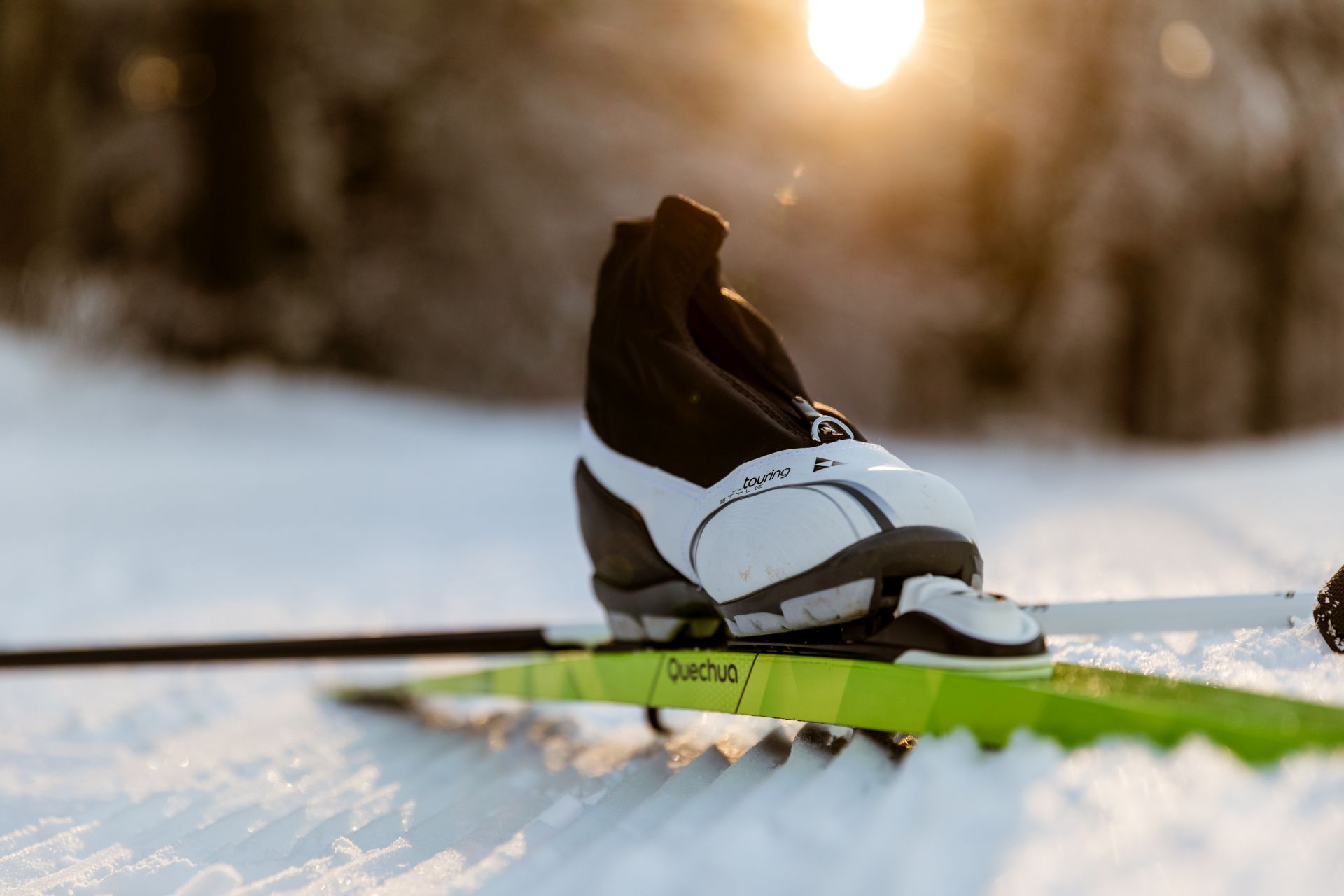 Interesting facts about cross-country skiing in the Thuringian Forest
How are the routes in the Thuringian Forest signposted?
All cross-country skiing trails follow the standards of the German Ski Association for signposting. The trails are signposted according to difficulty in the colors blue for easy, red for medium and black for difficult. The total length is indicated at the starting point and on all following signs the remaining kilometers to the finish, the technique (classic and/or skating), the name of the route and the name of the DSV center. Ski trails and winter hiking trails only have the name of the route and, if applicable, directional arrows on the sign. Connecting trails are marked with green signs.
What distinguishes cross-country trails and ski trails?
Our cross-country ski trails and ski touring trails are subject to the standards of the German Ski Association (DSV). Unlike ski touring trails, cross-country ski trails are designed for competition use and must be laid out as circular courses. Cross-country ski trails are groomed daily as needed, there is directional traffic (no two-way traffic), and the trails are graded according to difficulty and technique (blue = easy, red = medium, black = difficult). Ski trails are mechanically prepared trails for cross-country skiing and/or skating and travel is permitted in both directions.
Is it allowed to walk or hike on cross-country trails?
Cross-country ski trails and ski trails are cross-country ski trails and may not be entered on foot. Winter hiking trails are available for pedestrians. These are rolled or cleared trails for walking in the snow.
Who has the right of way? How do I behave when overtaking? What do I do in case of oncoming traffic?
The FIS rules of conduct for cross-country skiers regulate traffic and must be observed when cross-country skiing. Very important and rule number one: mutual consideration.
⠇
Die FIS-Verhaltensregeln für Skilangläufer
Mit Rücksicht und Vorsicht uterwegs auf den Loipen und Skiwanderwegen im Thüringer Wald
Winter macht am meisten Spaß, wenn alle Spaß haben. Deswegen gibt es grundlegende Regeln, wie man sich auf Langlaufstrecken und Skiwanderwegen zu verhalten hat. Hier haben wir euch alle wichtigen Infos zusammengetragen.
Where can I get information about the current cross-country skiing conditions?
Daily updated information on the prevailing winter sports conditions in the Thuringian Forest can be found in the snow app Thuringian Forest (schnee.app), at winter.thueringer-wald.com or on the snow phone 0800 - 72 36 488.
Where does the information on snow depths and open winter sports facilities come from?
A network of about 30 snow reporters distributed over the Thuringian Forest, transmits daily the snow depths, open cross-country ski trails, toboggan slopes, lifts, etc. via a central database. With additional information in the comment field or the ratings of trails ("very good", "good", "limited" and "rather poor"), guests can get an impression of the expected conditions before arrival. The motto here is to provide snow reports that are as representative and close to reality as possible and not to promise snow depths and conditions that do not exist.
How are cross-country ski trails prepared?
More than 40 trackers are responsible for preparing the cross-country ski trails and toboggan slopes in the Thuringian Forest. So that the first guests can make their rounds at 9 o'clock in the morning, the tracks have to be prepared early in the morning, even before sunrise. A job that demands a lot from every driver, but also rewards with a job outside in nature. Learn more about it here in the video.