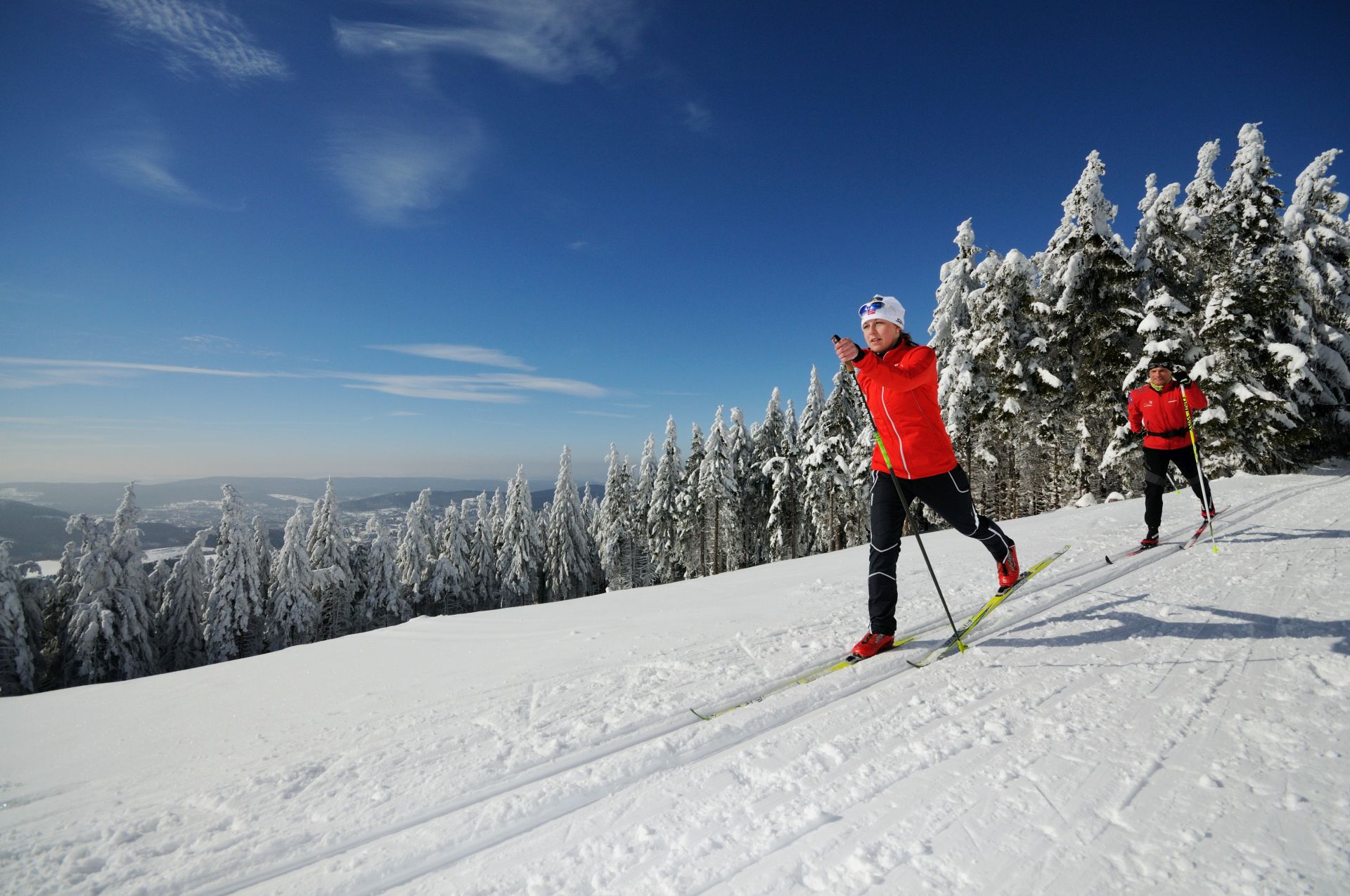 Welcome to the DSV Nordic Active Region Thuringian Forest
Here, cross country dreams come true
If you appreciate Nordic winter sports in an expansive landscape, the Thuringian Forest is the right place for you. Because in the 13 DSV centers on the Rennsteig you will find a perfectly coordinated cross-country skiing trail network of over 1,400 kilometers. Once you are on your skis, you can explore the natural beauty of the Rennsteig on circular tours of varying difficulty or on multi-day ski tours across the Thuringian Forest. This is made possible by the Rennsteig Ski Trail - the centerpiece of the DSV nordic aktiv Region Thüringer Wald. It connects all DSV centers and opens up countless route options. With 142 kilometers, it is the longest certified and continuously signposted long-distance ski trail in Central Europe. It can be completed in two to six stages. Luggage can even be transported on request. For a leisurely stop along the way, there are ski huts such as the Neue Gehlberger Hütte on the Schneekopf, the Waldschänke Dreiherrnstein near Brotterode, the Rennsteig station near Schmiedefeld or the Werraquellhütte near Masserberg.
Even on snow-free days, enthusiastic cross-country skiers in the Thuringian Forest do not have to miss out on their great passion. In the LOTTO Thüringen Skisport-HALLE Oberhof, the only cross-country ski hall in Central Europe, the best conditions prevail all year round at a constant -4 degrees Celsius on the 1.7 kilometer long track.
To plan your tour, use the Thuringian Forest tour portal. Here you will find all cross-country ski trails and ski touring routes as well as detailed tour descriptions with length, altitude and time information.